The Man in the Net
Updated recap written by Rich Braisted (May 14, 2013)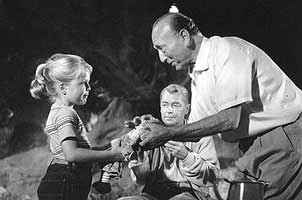 The Man in the Net (1959):
Susan Gordon played a tempestuous little girl named Angel Jones in The Man in the Net. Angel was one of five children who befriended John Hamilton, the character played by Alan Ladd. As this murder mystery unfolded, the five children aided and abetted John Hamilton in his attempt to allude the authorities. Included in the group of five children were Michael McGreevey and Charles Herbert, both of whom appeared in other movie and television productions with Susan Gordon in later years. As the photo of Susan Gordon with director Michael Curtiz at right illustrates, Susan Gordon appeared to be very young at the time of filming. Susan was almost 10 years old when The Man in the Net was filmed, but was small enough to portray a 6 or 7 year old. In an interview conducted by Susan's fan club president (Barbara Badham) for the Susan Gordon Fan Club newsletter in late-1960, Barbara asked Susan: "What is your most valuable asset?" Susan replied, "Being small for my age." Even as a 4' 5" tall, 11-year-old girl in late-1960, Susan realized that her diminutive size gave her a big advantage in acting, as she could behave like an extremely precocious very young child because she was actually not as young as she appeared to be.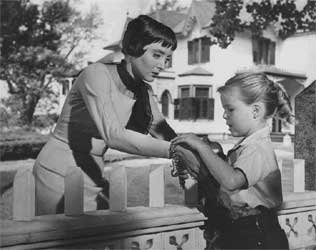 According to Aaron Spelling's autobiography (Aaron Spelling: A Prime-Time Life), it was while at the wrap party for The Man in the Net that Carolyn Jones (Aaron's wife at the time) introduced him to Alan Ladd. As the story goes, Mr. Ladd handed a film script to screen-writer Aaron Spelling at that wrap party on Friday night, and asked him to assess it for him, as Mr. Ladd was considering appearing in the film. Mr. Spelling went home and rewrote the script, then returned it to Alan Ladd at his home on Monday morning. Impressed by the rewritten script, Mr. Ladd immediately called Jack Warner to advise him of the rewritten script, and to let him know that he was willing to make the film. The Guns of Timberland became the very first production on which Aaron Spelling earned producer credit. Of course, Mr. Spelling went on to produce (or executive produce) an extraordinary number of TV series and films over the next 47 years, before passing away in 2006 at the age of 83. Included in his extensive list of executive producer credits was a TV series in which Joan Collins and Linda Evans starred: Dynasty. Susan Gordon had a personal connection to the Dynasty television series for a number of reasons, but the biggest reason of all was that her mother, Flora M. Lang, was a unit production manager on Dynasty from 1981 to 1985 (102 episodes total, according to IMDB).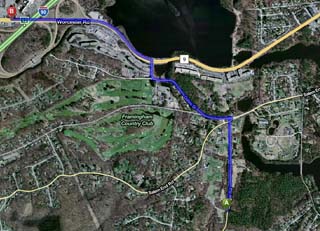 One of the locations used in the 1959 filming of The Man in the Net was in Framingham, Massachusetts: the former Macomber Estate, in the vicinity of 55 Badger Road, not far from the intersection of Badger Road and Salem End Road. More than 4 decades later, Susan Gordon returned to Framingham, Mass., the weekend of November 21-23, 2003, to appear as a celebrity guest at the 2003 Super Megafest (only 1.5 miles from where she'd filmed The Man in the Net fourty-four years earlier). Susan enjoyed herself that November 2003 weekend in New England, but noted that she wished that the fest had taken place a month earlier, so that she could have enjoyed colorful autumn foliage on her 4-hour drive to Framingham. Another location used in the film was The Cottage House, an inn located in Thompson, Connecticut, approximately 40 miles from Framingham. I believe this is the same inn that Susan Gordon and her child-actor co-stars stayed in (along with their moms) during the filming of The Man in the Net. Susan Gordon mentioned a number of times that her experience in making this film was especially fun for her because she spent a lot of time with the other child actors who appeared in the film: Barbara Beaird, Steve Perry, Michael McGreevey, and Charles Herbert.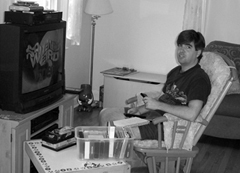 On a personal note: when I first watched The Man in the Net with Susan by my side in 2005, this while we were in the process of creating the recap video of Susan Gordon's career which she was later to screen at film festivals, I was not yet familiar with what Susan Gordon had looked like as a very young child. (I knew what she'd looked like in 1962 when she filmed her episode of The Twilight Zone, but she was much smaller in 1959 when she filmed The Man in the Net.) As a result, I had a difficult time at first distinguishing between Susan Gordon and Barbara Beaird, since these two young actresses were similar in appearance in 1959 (in my defense, I was watching with Susan her home-made videocasette copy of The Man in the Net, and the grainy video quality made it difficult to see things clearly.) As I watched The Man in the Net with Susan,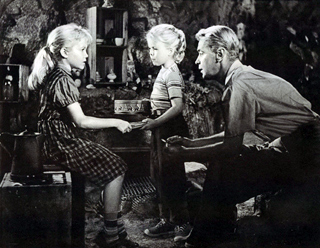 I think she thought I was joking whenever the group of children would appear, and I would ask her, "Which one are you?" I wasn't joking. Anyhow, since Susan Gordon and Barbara Beaird were portratying sisters Angel and Emily Jones, respectively, I suppose it was logical that two actresses who resembled each other were cast to play the two roles. (The photo at left is of Barbara Beaird, Susan Gordon, and Alan Ladd. The photo at above right was taken by Susan Gordon. That was what I looked like on June 12, 2005, while rewatching many of Susan Gordon's performances in the process of selecting scenes to use in the video recap of her career. We had the recap video ready in time for Susan Gordon's first appearance at the Monster Bash film festival, twelve days later. There were more than 20 videocassettes and DVD-R discs in the container next to me in that photo, and those were just "the good copies" from Susan's personal collection. Susan had accumulated a large collection of her performances, on all manner of media. She joked, "Can we use the ones I have on Betamax?" Although, maybe she was serious?)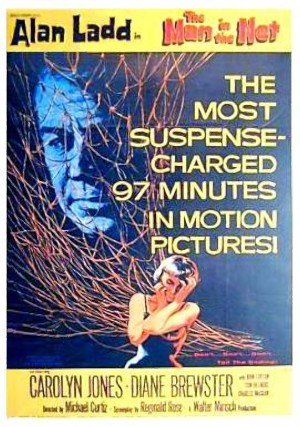 Cast: Alan Ladd (John Hamilton), Carolyn Jones (Linda Hamilton ), Diane Brewster (Vicki Carey), John Lupton (Brad Carey), Charles McGraw (Sheriff Steve Ritter), Tom Helmore (Gordon Moreland), Betty Lou Holland (Roz Moreland), John Alexander (Mr. Carey, Brad's Father), Ed Binns (State Police Capt. Green), Kathryn Givney (Mrs. Carey, Brad's Mother), Barbara Beaird (Emily Jones), Michael McGreevey (Buck Ritter), Charles Herbert (Timmie Moreland), Steve Perry (Leroy, Alonzo's Son), Natalie Masterson (Mrs. Jones, Postmistress)

Directed by Michael Curtiz; written by Reginald Rose and Hugh Wheeler; music by Hans J. Salter; cinematography by John F. Seitz; produced by Alan Ladd and Walter Mirisch for Jaguar Productions/Mirisch Company/United Artists.
Return to the Susan Gordon Home Page
Page Top