The Five Pennies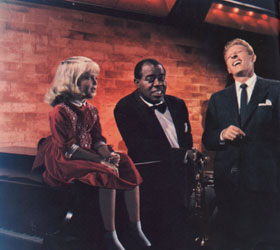 The Five Pennies (1959). Directed by Melville Shavelson, written by Robert Smith, Jack Rose and Melville Shavelson, produced by Jack Rose for Paramount Pictures.
Susan Gordon plays Dorothy, the six-year-old daughter of band leader Red Nichols (Danny Kaye) and band singer Bobbie Meredith (Barbara Bel Geddes). When Dorothy is diagnosed with polio, Nichols quits music and takes a steady job in a factory. Tuesday Weld plays Dorothy as a teenager.
Also in the cast are Louis Armstrong, Harry Guardino, Bob Crosby, Bobby Troup, Ray Anthony, Shelly Manne and Ray Daly.
31st Academy Awards (Wikipedia page)
Available on Amazon Instant Video
Return to the Susan Gordon Home Page
Page Top