Picture Mommy Dead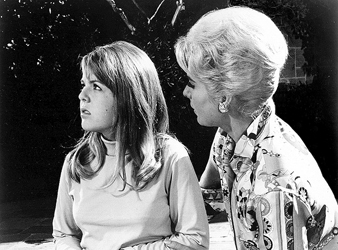 Picture Mommy Dead (1966). Directed by Bert I. Gordon, written by Robert Sherman, produced by Bert I. Gordon for Embassy Pictures, music by Robert Jackson Drasnin, cinematography by Ellsworth Fredericks.
Susan Gordon stars as Susan Shelley, a young woman tormented by the memory of her dead mother. With Don Ameche as her father, Edward Shelley, Martha Hyer as stepmother Francene Shelley and Zsa Zsa Gabor (Jessica), Maxwell Reed (Anthony, caretaker), Wendell Corey (Clayborn), Signe Hasso (Sister René) and Anna Lee (Elsie Kornwald).
For her performance in Picture Mommy Dead, Susan was voted "One of the Best Performances by a Juvenile Actress" in THE FILM DAILY's annual "Filmdom's Famous Fives" poll.
Return to the Susan Gordon Home Page
Page Top