Attack of the Puppet People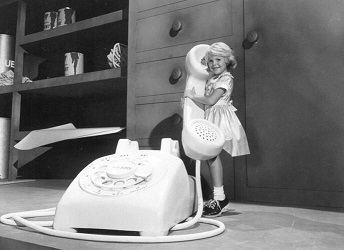 Attack of the Puppet People (1958). Produced and directed by Bert I. Gordon; screenplay by George Worthing Yates; story by Bert I. Gordon, with Samuel Z. Arkoff and James H. Nicholson as Executive Producers for American International Pictures. Music by Albert Glasser. Cinematography by Ernest Laszlo.
John Hoyt stars as Mr. Franz, a lonely puppeteer turned doll-maker who designs a machine that shrinks human beings and animals. Susan Gordon made her film debut as Agnes, a young Brownie who visits the doll company and discovers Franzís miniature cat in a matchbox.
According to a William Morris Agency biography prepared in May of 1959, Susan had begged her father to let her appear in the movie and he had agreed to let her appear as an extra along with her real-life Brownie troop. On the day of filming in October 1957, however, the professional girl hired to play Agnes "came down with a high fever and in a moment of necessity, Susan was given the six pages of dialogue to learn in ten minutes and played her first movie role." Her natural talents were quickly recognized and Susan was auditioned for and hired to play Danny Kaye's daughter in The Five Pennies and the nasty little Angel in The Man in the Net starring Alan Ladd. Because of a musician's strike, the Ladd movie was filmed first.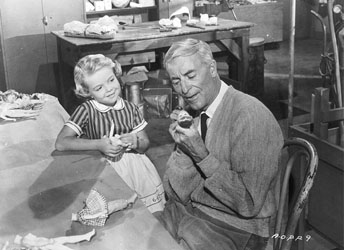 With John Agar (Bob Westley), June Kenney (Sally Reynolds), Michael Mark (Emil), Jack Kosslyn (Sergeant Paterson), Marlene Willis (Laurie), Ken Miller (Stan), Laurie Mitchell (Georgia Lane), Scott Peters (Mac), June Jocelyn (Brownie Leader), Jean Moorhead (Janet), Hank Patterson (Janitor), Hal Bogart (Special Delivery Man), Troy Patterson (Elevator Operator). Marlene Willis sang the theme song. The film is available on both VHS and DVD.
Return to the Susan Gordon Home Page
Page Top